Sacred Travel to Egypt
…and other destinations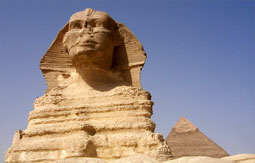 Please note that due to the magical and spontaneous nature of these trips the itinerary is subject to change, although all sites listed will be visited.
Our Egypt Tours Include:
5 star Hotel Accommodations at the Pyramids and throughout Egypt
Deluxe Five Star Cruise to visit temples along the Nile
Most gratuities and tips for items included in itinerary (boat and guides not included)
All sight-seeing in itinerary including entrance fees. Private entries whenever possible
Private visits to many monuments.
Mystery School initiations, meditations & ceremonies at sacred sites
Private Initiation in Great Pyramid
American Breakfast daily, 8 lunches and 9 dinners
Dear Nicki,
What an incredible journey! Thank you for making it all possible- I feel like the "red carpet" was rolled out for us the whole trip! I'm enjoying the transformation taking place in me and my life. I'm still amazed that I was actually there at all...Thank you and blessings to you on your own journey. Taya
Read an article by Normandi Ellis WHAT EGYPT STILL HAS TO TEACH US.
Journey to Egypt By Loretta Vigil
To read more about sacred spiritual travel in Egypt:
Visit our ARTICLES section.
Dear Egypt lovers,
Why Egypt? Why now?
Wednesday, January 29
6:00pm to 4:00pm Pacific
9:00pm to 4:00pm Eastern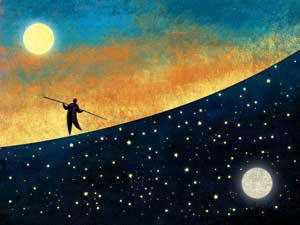 Tightrope Walker by RoweigThe world is in chaos and we are walking a thin edge between order and chaos, dissonance and harmony, and especially, trust and fear. It breaks my heart to feel and know the suffering of my friends and family in Egypt, mostly because of the misinformation that comes through the western media. Egypt is safe. In fact now is the best time to be there for there are no other tourists and the temples are quiet! The people are so happy when any of us show up for that means they get to feed their families.
Indigo Ronlov and I are inviting you to join us to talk about Egypt and offer you an initiation from the new/ancient mystery teachings that are coming in for our March trip. I realize that we have been focusing a lot on the service aspect of this project, which is both important and appealing, and yet the deeper mysteries are our true calling.
In ancient Egypt every child grew up knowing that her purpose was to serve Ma'at. Ma'at is the winged goddess who wears the single feather of Truth (cosmic not relative truth). It is she who represents the harmony and order that is being so blatantly disrespected throughout the world at this time. The results are obvious. It's time for us to re-stabilize ourselves to stand without fear and trust in the magic that we can live in harmony despite the chaos. In actuality when we find that trust deep within ourselves and live that harmony, the world is transformed.
The ancient monuments still vibrate with the intentions of the priesthood builders so that when we ceremony at those places the magnification and power is huge beyond words.
The initiation that we are offering in this call will help you walk that edge between chaos and harmony with grace and elegance. To receive this empowerment and learn more about our upcoming trip and our service project, please come to our free phone bridge teleweb call Wednesday, January 29th at 6pm Pacific.
Spiritual Tours of Egypt
This video contains images taken from our Spring 2010 Tour.
Photos by Jake Cohl and Sage Scully; Video by Julie Knouse & Nicki Scully
Join Shamanic Journeys, Ltd. for one of our upcoming pilgrimages to Egypt. We are your most experienced guide to the mysteries of Egypt, featuring our transformative spiritual travel packages with the most exciting and inspiring tour leaders and teachers you'll find anywhere. Amongst other luminous visionaries of our time, Nicki has had the privilege of co-leading tours most recently with Dr. Bruce Lipton, Alex and Allyson Grey, and Normandi Ellis. Her tours and those that she organizes for other teachers and groups feature five star accommodations and deluxe Nile Cruises. They are particularly appreciated for the perks she has gained from leading 40-plus groups during the past twenty years. Most of the monuments are seen privately, with special after-hours permits. When timing requires visits during public hours, Nicki and her Egyptian staff know when and how to assure the privacy needed to experience the spiritual work without interruption.
For those unable to make the journey to Egypt itself, we offer the Shamanic Egyptian Mysteries Retreat, August 20 - 24 at the Lyceum for Shamanic Egypt in Eugene, Oregon. Click here for more information and registration for this intensive workshop with Nicki.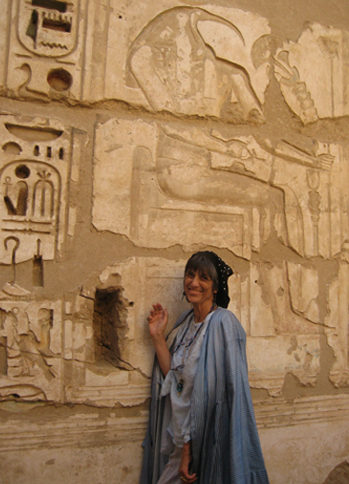 I've lost count of how many trips and groups I've taken to Egypt— more than 30 since I first traveled there with the Grateful Dead in 1978. From that original enchanting experience, my love for Egypt, her people and her mysteries has continued to grow. It is my greatest joy to share what I have learned and experienced with those who join our groups. Each journey is new to me through the eyes of those who engage with the ever-unfolding, ancient yet contemporary mysteries for the first time.
Because Egypt is fully booked with tourists from all over the world, we are making special arrangements for private entries into several sites during off hours where we will be able to do our spiritual work without disturbances. Some of these special services depend upon the size of the groups.
Please contact our office for further details, or register by sending a check to the address below.
Please read this important travel information:
For more information or to register for this tour:
E-Mail us at office (at) shamanicjourneys.com
Or contact:
Shamanic Journeys, Ltd.
PO Box 5025, Eugene, OR 97405
(541) 484-1099
Fax (541) 686-5960