Nicki Scully's Shamanic Journeys & Alchemical Healing Newsletter
This newsletter is sent periodically to those wishing to stay current with Nicki Scully, Shamanic Journeys, and Alchemical Healing news and events.
If you enjoy receiving these newsletters, please forward or share with a friend. You may add an email address to our list by entering it below.
If you wish to be removed from our mailing list, please click the link at the bottom of the page.

Join Nicki on Facebook
Dear Friends,
The sun's corona during a solar eclipseMark this moment! This is the first time in the history of our country that a total Solar Eclipse is limited to the continental United States. There are many ways you can tune into the power of this moment regardless of where you are geographically. The potency is in the moments before the eclipse as well as during and especially after, because it is after the shift occurs that the real work begins.
Although we can use this opportunity to raise our vibrational frequency and set new intentions for our personal and planetary evolution, the actions that we take to ground whatever visions we might have during our meditations before and during the event is what grounds the new frequency into our bodies, and allows the real changes to happen.
Regarding how to prepare for and observe the eclipse, I've been talking with Michael Stone and Stephen Dinan, the head of the Shift Network and here are some choices you can consider when thinking about how you want to prepare and spend that most important moment:
Quoting from Shift's invitation:
On August 21, 2017, America will experience an unprecedented event, a total solar eclipse that crosses the continental United States and no other country, traversing our nation from Oregon to South Carolina.

Almost every culture ascribes symbolic meaning to solar eclipses, ranging from fearsome breakdowns to unexpected breakthroughs.

You are invited to join Shift to use this unique opportunity to support an upgrade of our democracy through small circles of concerned citizens joining across our nation.

To participate, you need only to invite friends, allies, neighbors, or fellow citizens to convene in a natural, outdoor setting (preferably) for three hours of inspiration, prayer, and sharing.

Our intention is to use this time to connect with our founding ideals, heal our divides, and move forward with positive actions in service to creating an upgrade to American democracy.

All participants are invited to enter into silence and listen as a group to Shift Network's inspirational audio broadcast on your phone at the precise moment (9:04am Pacific/12:04pm Eastern) that the partial eclipse begins to touch the West Coast. Our broadcast will end when the path of totality reaches Government Point at 10:15am.

At this point and during the entire time the total eclipse crosses the country, we encourage you to enter into a state of prayer for the good of all Americans. Pray for the healing of our historical wounds, the fulfillment of our founding ideals, and the realization of the highest good for our country.

When the total eclipse leaves South Carolina at 11:48 am Pacific/2:48 pm Eastern, we encourage you to spend the final 21 minutes sharing about what you are most grateful for, your vision for the America we can create and the actions you will commit to doing with the support of your circle, who can be your allies moving forward.

We particularly encourage circles that mix people of different races, religions, and political orientations as a fulfillment of our motto, E Pluribus Unum. If you gather in a park, we encourage you to place a sign out to welcome anyone who may pass by so they know what you are doing and that they are welcome.

Together, we can make America a shining example for the world and create an American Evolution to build on the American Revolution! When you sign up, you will also be given links to specific guided processes that you can play during your group if you choose.
A Free Virtual Event
Monday, August 21, 2017
Audio Broadcast: 9:04 am Pacific / 12:04 pm Eastern
Prayer Circles and Sharing: 10:15 am to 12:09 pm Pacific / 1:15 to 3:09 pm Eastern Let's come together in communities of practice to heal our divides, reignite our vision, and forge a better future Featuring:
Marianne Williamson:
NY Times bestselling author, founder of Sister Giant
Grandmother Mona Polacca:
Hopi/Havasupai elder
Stephen Dinan:
CEO The Shift Network
Sandra Ingerman:
Author and shamanic teacher
don Oscar Miro-Quesada:
Peruvian teacher
Rev. Sylvia Sumter:
Unity of Washington, D.C
Registration and more info for this free event here…
with grandkids Eleana and LukeI will be spending the morning with family, observing the 97% from my back yard, along with Sekhmet, the newest member of our temple statuary. Although we won't be able to tune into the programs, we will create our own ceremony, with special emphasis on commitment, visualization of what we want to create as a family and for the greater good of our planet, and especially gratitude and commitment to whatever each of us is willing to do to keep the energy going.
Michael Stone Full Moon Gathering
Michael Stone has a free New Moon Gathering every month as a gift for healing the planet. This month was planned around connecting with our ancestors, which fits in perfectly with what Shift and others are doing. I suggest you register for both, and pick up one of them in the recording that is sure to follow, at least for Michael's. Following is the information from his website, www.welloflight.com:
Indigo's Note
In the years I've worked with, walked with, and been near enough to witness Indigo in action has made one thing clear to me: Indigo Rønlov is an authentic steward of our planet
She's taught women and children in developing countries how to turn litter into treasure, has helped turn her family's coffee been company into an inspiration for fair trade and organic farming methods that is healthy for the workers and the Earth. She has helped guide our local counter-culture festival into a shining example of how we can gather and play while treating the land and its spirits with honor and respect.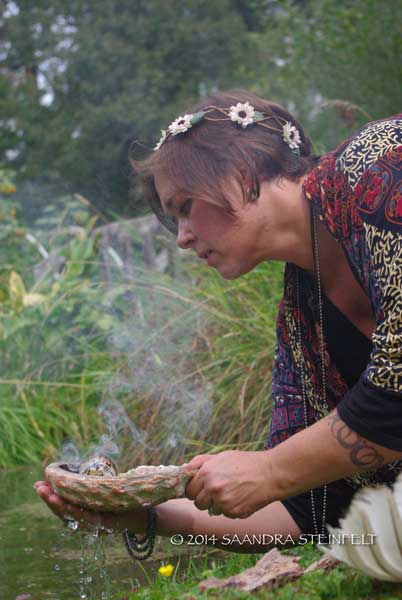 Indigo on the eclipse:
Every single person in the line of the eclipse on the 21st (and really anywhere at anytime) has the opportunity to envision and call in their highest healthiest vision of what they see themselves and humanity becoming. That vision can then be brought into each choice and action made in every moment. Humanity collectively shapes the global future as a minority species on this planet.

From my perspective, we are currently not doing such a good job and must evolve our thinking and actions for the healthy survival of all. Moving forward from this moment, I will do my part to create a future where we understand the gift it is to be a human embedded within a shared planetary body who in turn is embedded within the dance of the stars. I seek a future where we choose to collectively act to nurture and care for our shared existence on this sacred biosphere. I choose to help co-create a future filled with love and acceptance while having no tolerance for violence. I am looking into all the dark places inside of myself where I act in violence in some way and am challenging that impulse with compassion and love.

I call in a world where seeds are sacred, and growing food is a household and community activity, not left to the greed of the corporations. I call in a world where traditions are deeply respected and honored, and where new ways can evolve from what came before. I call in a world where intolerance is shifted to bad behavior - lies, greed, hate, and violence rather than culture, race, or belief. I call in a future when we can truly come together as one humanity with all our beautiful diversity to cast out the violence that is manifesting in the words, deeds, and hearts of so many right now.

This is what I call in during this coming eclipse that spans coast to coast during these dark times. Love is a choice. Hate is an excuse. It is time for us to wake up and remember who we are and why we are here.

I am Indigo, daughter of the setting sun. I am here to make way for the dawn. Who are you?
Indigo will be leading two tours in 2018, see Egypt below.

Caroline Casey
Please take the time to listen to the free presentation given by the Washington DC activist and wizard of astrology, Caroline Casey, as she shares her wit and wisdom. Although I haven't heard this presentation, I know Caroline, and she doesn't mince, nor waste words. I can only imagine that it will be the perfect set up for the eclipse on Monday. I do know she will be talking about how the movements of the sun, planets and moon can help you navigate your life, evolve our world, and conjure magic and synchronicity— astrology can be a liberating force to help you engage with positive intrigue of transformation of culture. Free registration here… if you don't get to it in time, there will be a recording available. Go ahead and register and you will get the replay.
Schedule of Upcoming Classes
I am trying to keep this short, mostly because I am preparing for a family visits, both here and in New York, and presenting at the 30th Annual Women's Herbal Gathering in New Hampshire next weekend.
My office will be open while I'm gone, however I am only scheduling sessions and interviews starting right after Labor Day. You can find the dates and register for Alchemical Healing Levels I, II starting September 7 via video/telecast Thursday and Monday evenings, and Sekhmet, Transformation in the Belly of the Goddess starting September 16, also Monday and Thursday evenings. Alchemical Healing III starts November 6. Please go to HathorsMirror.com to find out details on these classes, which are the only ones I plan to do this fall.
I will be presenting at East West Books in Mt. View, CA Tuesday, October 3, and at the Sacred Well in Oakland, CA Wednesday October 4, on my way to the Convocation honoring Ma'at and Tehuti (Thoth) at Isis Oasis October 6-9 in Geyserville, CA. If the dates are not yet announced on their websites, they will be soon, so stay tuned.
Egypt
For those who have already been to Egypt and would like to explore new places, there are only a couple of places left in the February tour with Normandi Ellis and Indigo Rønlove: Egypt—Off the Beaten Path: Through the Layers of Time
Others who are being called to Egypt can still sign up for our March tour with Indigo and Debbie Clarkin: The Wisdom of the Neteru
We got great response from our last newsletters with two stories about first Egypt experiences. We'd love to hear and print yours.
Sekhmet Group
As promised, I am creating a Google Group forum for people to share their visions during their journey through Sekhmet, In the Belly of the Goddess. Although the first post is up, I have not yet sent the invitations out to the people who attended the Virtual Launch.
My intention is to create a safe place to share your experiences and make comments or ask questions of me and other participants. Use the link below to request an invitation to the group.
Sekhmet: In the Belly of the Goddess Group
Have a powerful eclipse, wherever you are, and enjoy the rest of summer (or winter if you are down-under . . .)
Love to you all,
Nicki
---
For updated events and a full schedule, please go to our schedules page.
Phone Mon-Thurs 10:30 - 3:30 Pacific: (541)484-1099
Email Newsletter Services by xnau