Egyptian Mysteries Pilgrimage
with
Nicki Scully
October 10 ~ 24, 2011
Reserve your place on this tour now: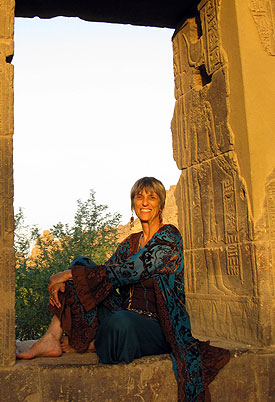 Nicki Scully has guided many hundreds of spiritual seekers through Egypt, while forging relationships with the family of the divine neteru, and also with the people of modern Egypt who care for us and guide us throughout our adventure. For more information about Nicki, see our staff page.
See some of our sacred travel testimonials and reviews…
Read what a traveler has to say after FOUR TRIPS TO EGYPT WITH SHAMANIC JOURNEYS!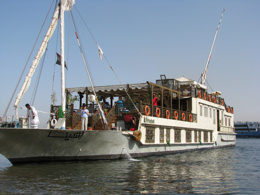 The Dahabeya Afandina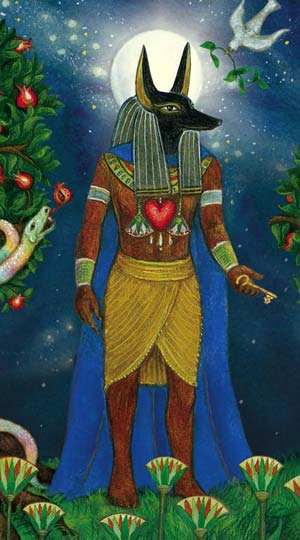 Please join me for this extraordinary pilgrimage to explore the ancient mysteries of Egypt. I've got something new to share with you. After a 30-year love affair with that majestic, magical place, returning again and again to quest for direct experience and articulation, I've somehow reached a new level of perception of the layers of myth and meaning through which ancient Egypt speaks to us. I have also found new ways to immerse you even more deeply in the mysteries and spirit of ancient Egypt. The keys have been unlocked; the way prepared. Anubis, Thoth, Isis, and Sekhmet are among many others in the revered pantheon who will be our true guides as we explore the temples and monuments that still reverberate the intentions of the magician/priesthood that built them.
Maximum 16 participants for this tour. The group will be joined by Alchemical Healing teacher Sharlyn Hidalgo.
While holding the dynamic of a mutually supportive, co-creative and harmonious traveling community, we will delve deeply into an experience of healing, transformation, and renewal. Each participant in our group carries a piece of the larger picture of what we will create together. Through our rites and rituals you will remember your soul's connection to the mythic tradition of ancient Egypt, and you will re-member your self.
During this consciousness expanding, life-changing spiritual adventure you will experience some of the initiatory rites of passage from Shamanic Mysteries of Egypt, and receive guidance from the new oracle book and card deck, The Anubis Oracle.
There is no place like Egypt, and no doorway into her mysteries like the one we will enter together.
Please read this important travel information:
Tour Pricing
now=1519280643 disc=1301641200
The price for this tour package, including international round trip airfare from New York, is $6788 when paid by check or money order; the credit card price is $7052. This includes air fare from New York, deluxe hotels, and cruise ship in Egypt, all meals during the Nile cruise, domestic travel between Cairo/Aswan and Luxor/Cairo, breakfast daily, welcome and farewell meals, and at least two extra lunches, extensive sightseeing as mentioned in itinerary, including entrance fees and English speaking guides, all transfers and luggage handling, and miscellaneous gratuities. It also includes sacred initiations, ceremonies and meditations at sacred sites.
The land only cost (without international airfare from U.S.) is $5988 cash/check or $6252 credit card, a $800 discount on the full tour price.
A deposit of $1500 per person (paid by check or money order) is required to secure your position on this trip. If you do not wish to pay the entire trip cost at one time, you may pay in installments at any time, but no later than the following payment schedule: $1800/$1890(credit card) is due May 10th, 2011 an additional $1800/$1890(credit card) is due June 10th, 2011, and the final balance of $1688/$1772(credit card) is due by July 10th, 2011. Please note: the final, full payment for the trip is due 90 days prior to the scheduled departure. This deposit is fully refunded if we cancel the trip for any reason. Otherwise, it is non-refundable except on an exceptional, case-by case basis. For our cancellation policy, please see our Terms and Conditions.
Please register early, as Egypt is a popular destination and accommodations must be arranged well in advance. Space is limited. Tour costs are based on a minimum of 14 participants, double occupancy, and are subject to change. All prices in US dollars.
PLEASE NOTE: In the event unexpected Hotel or Airline surcharges exceed our contingency budget these extra charges may be added to the tour cost.
Detailed information including terms, conditions, responsibilities and a packing and book list will be sent upon receipt of your deposit. Deposits must be paid by cash or check. Please send checks and make payable to: Shamanic Journeys, Ltd., PO Box 5025, Eugene, OR 97405. For further information, e-mail us.
For more information E-Mail us at office (at) shamanicjourneys.com
Or contact: Shamanic Journeys, Ltd. PO Box 5025, Eugene, OR 97405 (800) 937-2991 or (541) 484-1099 Fax (541) 686-5960