Pilgrimage to Egypt
with


Joan Borysenko, Ph.D. & Nicki Scully
November 4 - 18, 2010
With an Optional Extension to Jordan & Petra
November 18 - 22
Video interview on Sacred Travel to Egypt with Bruce Lipton, Joan Borysenko, Margaret Horton and Nicki Scully:
Reserve your place on this tour now:

About Dr. Joan Borysenko:
How did a Harvard trained medical scientist become a mystic? In reality, it was the other way around. At the age of 10, Joan experienced 6 months of an alternate reality, what modern psychiatry would label psychosis and obsessive compulsive disorder. One day, while praying fervently for help, all fear and confusion parted to reveal a luminous reality of exquisite love, surpassing peace, and practical wisdom that guided her to an almost instantaneous recovery. Her journey to hell and back birthed a lifelong fascination with healing, the roots of consciousness, and the realm of Spirit. Weaving together biology, psychology, and spirituality in a credible, accessible way is her soul's purpose.
Joan's doctorate is from the Harvard Medical School where she subsequently completed postdoctoral fellowships in cancer cell biology, psychoneuroimmunology, and behavioral medicine. In 1987, her New York Times bestseller, Minding the Body, Mending the Mind (revised in 2007 for it's 20 year anniversary edition) described the program of mental and physical healing that she and her colleagues pioneered at a leading Boston hospital. She has authored or co-authored a dozen other books about healing, inner peace, and the spiritual journey, along with numerous audio programs and guided meditation CD's. Joan is also a licensed psychologist, a journalist, a renowned inspirational speaker, and a television personality.
Her lifelong interest in mysticism and the world's religions culminated in co-founding The Claritas (Latin for clarity and illumination) Institute for Interspiritual Inquiry with her husband, organizational psychologist Gordon Dveirin, Ed.D. The Institute has programs to train spiritual mentors, offers spiritual guidance to individuals and corporations, and hosts seminars and retreats. Website: www.JoanBorysenko.com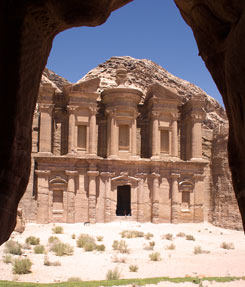 Comments from Nicki's Equinox 2009 Journey to Egypt with Alex Grey and Allyson Grey
From Beth Stanford, Hayward, CA: I am still brimming over with gratitude and light, and expect to be integrating for months if not years. We went to a party with many dear friends last evening, and although extremely jet lagged, I found myself spilling out tales of our sacred travels. I cherish the special tribe that we created together almost instantly.
From Lori Stargrove, Portland, OR: I am slowly coming down from an all encompassing WOW state! words like amazing, outrageous, fabulous seem to be my favorite adjectives... I am so thankful for this life changing experience. I didn't know I would fall in love with Egypt, but I did and in a big way.
Auntie-Up (Martha-Lee), Gulfport, MS: I am ever so grateful for the abundant blessing sharing the time and place; thoughts and feelings; love and light with all y'all...
Please join Nicki Scully and Joan Borysenko, PhD for the Shamanic Journeys, Ltd. Autumn 2010 pilgrimage to Egypt.
Joan Borysenko, one of the original vanguards of integrative medicine and the mind/body connection, is the best-selling author of thirteen books. With her heart-centered presence, her renowned wisdom and wit, and her vast knowledge of medicine, metaphysics, spirituality, and alternative forms of healing, she provides an eloquent compliment to Nicki's expertise in Egypt, her experience in guiding tours, and the wealth of knowledge she has gathered over the past 30+ years of exploring Egypt. While Nicki is highly respected as an author, healer and practitioner of the shamanic arts, her great love is Egypt, and her books, CDs and teachings reflect her passionate immersion in Egypt's mysteries.
Nicki and Joan are creating a program that offers opportunities for deep reflection, transformation, and spontaneous healing as you travel the Nile in the comfort of our group bubble. You will be cared for and supported along the way with sharing circles, lectures and discussions, including a caring staff to make sure that both your physical and spiritual needs are met.
The monuments of Egypt are unsurpassed for spiritual Rites of Passage and Initiations into higher levels of consciousness. The great goddess Isis traveled throughout Egypt searching for the lost and scattered parts of her murdered husband, Osiris. At every place a part was found, a temple was erected in his honor until Osiris was fully re-membered. During our pilgrimage, we will visit many of those ancient sacred sites and reclaim the fragmented parts of ourselves.
Imagine your first morning in Egypt: Our group enters the Great Pyramid complex in the pre-dawn quiet, and proceeds to an ancient temple at the base of the second pyramid. Our field of vision includes the Great Pyramid, the Sphinx, and Cairo spread out below. As the sky brightens and the warm glow of sunrise lights the mist in the east, you can hear the city awaken. When the sun has risen, but long before the plateau is open to tourists, we enter the Sphinx enclosure (a great privilege not available to the public) and stand between the paws of that enigmatic guardian of the mysteries, and experience the first of many ceremonies.
There is no place like Egypt, and no doorway into her mysteries like the one we will enter together.
Please read this important travel information:
Nicki has posted an article on SACRED TRAVEL IN EGYPT.
Tour Pricing
now=1516529316 disc=1280646000
The price for this tour package, including international round trip airfare from New York, is $6588 when paid by check or money order; the credit card price is $6843. The land-only cost of the trip for those not traveling with us from New York is $5888 (check/money order); $6108 (credit card).
Registration deposits received after August 1, 2010 will be charged a $100 late fee. A deposit of $1500 (paid by check or money order) is required to secure your position on this trip.
The price of the optional Jordan extension on this tour is $1088 including round trip air from Cairo and is payable with the deposit.
If you opt for a single room, the $1300 single supplement is also due at registration, making the total deposit $2800. A payment of $1800 is due June 4th, 2010; $1800 is due July 4th, 2010; and the final balance of $1488 (check/money order) or $1743 (credit card) is due August 4th, 2010. This deposit is fully refunded if we cancel the trip for any reason. Otherwise, it is non-refundable except on an exceptional, case-by case basis. For our cancellation policy, please see our Terms and Conditions.
Please register early, as Egypt is a popular destination and accommodations must be arranged well in advance. Space is limited. Tour costs are based on a minimum of 20 participants, double occupancy, and are subject to change. All prices in US dollars.
PLEASE NOTE: In the event unexpected Hotel or Airline surcharges exceed our contingency budget these extra charges may be added to the tour cost.
Detailed information including terms, conditions, responsibilities and a packing and book list will be sent upon receipt of your deposit. Deposits must be paid by cash or check. Please send checks and make payable to: Shamanic Journeys, Ltd., PO Box 5025, Eugene, OR 97405. For further information, e-mail us. Payments made by cash or check will receive the above mentioned 5% cash discount.
This trip is SOLD OUT, but you may put your name on the waiting list in case there is a cancellation.
For more information or to register for this tour: E-Mail us at office (at) shamanicjourneys.com
Or contact: Shamanic Journeys, Ltd. PO Box 5025, Eugene, OR 97405 (800) 937-2991 or (541) 484-1099 Fax (541) 686-5960