A Magical Pilgrimage to Egypt
with


Danielle Rama Hoffman &
Dr. Friedemann Schaub
September 18 - October 2, 2012
Reserve your place on this tour now:

See these books by Danielle Rama Hoffman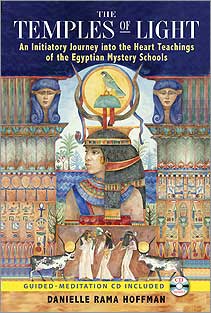 The Temples of Light: An Initiatory Journey into the Heart-Teachings of the Egyptian Mystery Schools (Book & CD)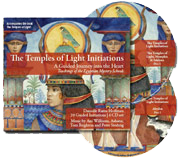 The Temples of Light Initiations: A Guided Journey into the Heart - Teachings of the Egyptian Mystery Schools (6 CD set)
Itinerary
16 Day Tour: Subject to change; Europeans start on day 2.
Day 1—Depart for Cairo from JFK in New York at 6:30PM. Overnight on plane.
Day 2—Arrive in Cairo. Check into the luxurious Mena House Oberoi Hotel in Giza. Relax and acclimate. Opening Circle and walk to village for a dinner at local restaurant. (D)
Day 3—Morning tour of pyramid complex, starting our path of initiation with a journey to the Sphinx, Guardian of the Mysteries. Visit to Cairo museum. Evening overnight train to Aswan. (B)
Day 4—Arrive in the morning to Aswan. Check into our private sailing yacht. Afternoon sail to Elephantine Island for an important empowerment at the Temple of Khnum. (B)
Day 5— Morning initiation to Isis at her island temple at Philae. This afternoon we circle on deck as we sail to Kom Ombo and visit the temple of Sobek and Horus to bring together the forces of dark and light. We sail on to Edfu. (BLD)
Day 6— Early morning at Edfu, the Temple of Horus, for a powerful experience of the heart. Continue sailing to Luxor, the ancient city of Thebes that was the capital of Egypt during its peak. Circle on deck. (BLD)
Day 7— Continue sailing on our private ship, stopping at small villages and visiting special places. (BLD)
Day 8— Arrive in Luxor, evening visit to Luxor Temple. (BLD)
Day 9—Drive by bus through the beautiful countryside of Egypt to Abydos and the ancient Osirion where you will see the most beautiful reliefs in Egypt. This is also where you will see the "flower of life". Then visit the temple at Dendera where you will visit the exquisite temple dedicated to Hathor, the goddess of love and joy. Check into Sonesta St. George Hotel. (B)
Day 10—Early morning visit to the magnificent Karnak Temple and receive Sekhmet initiation at her chapel. (B)
Day 11—Visit the necropolis of Thebes, on the west bank of the Nile and explore the tombs of pharaohs in the Valley of the Kings, and the mortuary temples at Medinet Habu and Deir El-Bahari (the temple of Queen Hatshepsut). (BL)
Day 12— Flight to Cairo. Lunch & shopping at Khan Khalili Bazaar. Check into the Mena House. (BL)
Day 13—Morning visit to the step pyramid at Sakkara for the first rite of passage. This is a huge temple complex from the Old Kingdom. Then lunch at beautiful garden restaurant. (BL)
Day 14—Private visit to the Great Pyramid with culminating initiation in the King's Chamber. Free time for last minute shopping before our closing circle and farewell dinner. (BD)
Day 15—Farewell to Egypt, morning flight departs from Cairo for New York and arrives at JFK at 3:15PM
Abu Simbel
Optional Add-On:
October 6th fly out of Aswan-Abu 9:10am return Abu-Aswan 1:10pm.
You'll spend two hours at the magnificient temple complex of Abu Simbel with Egyptologist
Price: $270
Contact us right away to reserve your flight—they sell out very early.
Read Danielle's article Temple of Kom Ombo Initiation:
The Seat of Neutrality
Also by Danielle: Is Egypt Calling You? Say "Yes"!
Read what a traveler has to say after Four Trips to Egypt with Shamanic Journeys!
Check out new testimonials and reviews…
Please read this important travel information:
Note: this trip is sold out; please contact our office to be placed on our waiting list
Egypt is one of the most magical destinations on the planet.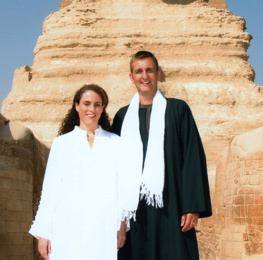 Being in Egypt immerses you in the realm of infinite possibilities, the veils are thinner, your connection to your full potential more accessible and your heart opens more easily. Your pilgrimage through Egypt is a process of conscious evolution, one that can be classified as an ascension spiral into the open heart. As you, the initiate journey through the sacred sites in Egypt you unlock and access energy, consciousness and wisdom, which aligns you with your soul, your inner being, your divine self, your full potential and you and your life are forever changed for the better. This process is one of renewal, transformation, personal growth and expansion. Join us in November 2011 for this heart-opening, awakening and enlightening journey through Egypt. The possibilities are infinite, what will you create in Egypt?
Imagine yourself between the paws of the Sphinx setting powerful intentions, at Isis's temple on Philae opening your heart to unconditional love, at Sekhmet's chapel accessing courage and power to be your authentic self. Activate Egypt's magic in an exclusive visit of the Great Pyramid. Integrate and luxuriate in 5-star accommodations. Learn about Egypt's history, culture and art through our world renowned Egyptologist. Receive ongoing support during this journey to integrate the powerful experiences through group circles, preparation lectures, energy work, sound-healing and mind-body-spirit integration.
There is one more reason why this journey will be very special:
"The Afandina"
Thanks to Mohamed Nazmy, the owner of Quest Travel, we are extremely fortunate that we were offered to sail down the Nile with a "Dahabia," a privately chartered luxurious sailing yacht, on this upcoming trip—and we don't know, when or if it will be available to us again. Sailing on a "Dahabia" is like traveling in your own private palace. You are closely connected to the Nile and are able to stop and explore the Egypt off the beaten track of the tourist. The boat fits a group of 16 people, it has 2 sundecks, an air-conditioned dinning room and library. All the cabins have air-condition and a private bathroom with shower. And the food that is prepared for us daily by the wonderful crew rivals any gourmet restaurant. Sailing on a Dahabia is very special opportunity and allows us to learn to know and appreciate Egypt in a unique and personal way.
Note: To enhance your experience, the size of this group is limited to 16 people. Please register early, either by signing up for the trip (below) or contacting the office with your trip deposit.
For more information go to: www.EgyptisCalling.com
Danielle Rama Hoffman is an ancient wisdom keeper and energy intuitive who specializes in the Egyptian Mysteries. Her childhood experiences of being struck by lightening awakened her ability to be clairvoyant, audient and sentient, enabling her to transmit high frequency energy.
Danielle is the author of The Temples of Light: An Initiatory Journey into the Heart-Teachings of the Egyptian Mystery Schools, a book and CD set that is a guide to the open-heart wisdom and secret rites of passage of thirteen sacred temples in Egypt. This book and CD set, along with all of Danielle's publications are available for sale on Hathor's Mirror.
Through her direct connection to the lineage of Thoth, she provides Intuitive Readings, Egyptian Mystery Classes and Tours and has created a line of Temple of Egypt Essences. For more information about Danielle, see our staff page and view her website, divinetransmissions.com.
Friedemann Schaub MD., Ph.D., the founder of Cellular Wisdom, a Mind-Body Healing Center, based in Seattle, WA. During more than 15 years of practice and research as a physician and molecular-biologist, Dr. Schaub found that emotional balance and activation of the mind-body-spirit connection are keys to accelerated healing. Dr. Schaub developed an accelerated Personal Breakthrough Program, which combines mind-body-spirit activating technologies with his broad background in medicine and biology. "Egypt is truly magical. During the travels to this ancient land, I have seen our participants expand, change and heal on a very profound level. I believe that spending time in Egypt at the sacred sites with conscious intentions is one of the most powerful ways to realize our unlimited nature - and to connect to the heart of who we really are."
Visit Friedemann's site, www.cellularwisdom.com for more information.
This Tour Includes:
Roundtrip airfare from New York to Cairo & all scheduled travel in Egypt
Exclusive private visits to many selected sacred sites
5 star hotel accommodations at the Pyramids and throughout Egypt
Sacred initiations, ceremonies & meditations at sacred sites with Friedemann and Danielle
Private visit in Great Pyramid
5 day deluxe cruise on private sail-boat to visit temples along the Nile
Most gratuities and tips included in itinerary
All sight-seeing in itinerary including entrance fees
World renowned Egyptologist to explain history, culture and art of Egypt and sacred sites
American breakfast daily, 8 lunches and 9 dinners
Camel ride in the desert
Space is limited to 16 people to enhance your experience
Tour Pricing:
PRICE AND PAYMENT: The price for this tour package is $6788 via check or wire transfer/$7127 via credit card. The Land Only cost of the trip for those not flying with us from New York is $6088 (a $700 discount), or $6392 when by paying by credit card. There are no single supplements available on this tour.
A deposit of $1500 is required to secure your position on this trip. If you do not wish to pay the entire trip cost at one time, you may pay in installments at any time, but no later than the following payment schedule (after the initial deposit has been made): a payment of $1900 is due no later than April 18th 2012; another $1900 is due by May 18th; and the final balance of $1488 is due by June 18th. Please note: the final, full payment for the trip is due 90 days prior to the scheduled departure.
Personal checks, cashier's checks, money orders, credit card payments and bank transfers are welcomed. Please note: if you plan to pay by credit card, please contact the SJ office at 541-484-1099. A 5% credit card processing fee will apply to your payments. Please make checks payable to Shamanic Journeys, Ltd. PO Box 5025 • Eugene, OR • 97405.
Please see the Terms & Conditions statement for more information, including our cancellation policy.
Or contact: Shamanic Journeys, Ltd.
PO Box 5025, Eugene, OR 97405
(800) 937-2991 or (541) 484-1099 Fax (541) 686-5960